Machine Learning (ML) and artificial intelligence (AI) have been disrupting almost every domain and industry. The global market size of machine learning and AI enabled solutions is expected to reach $8.81 billion by 2022. In this article guest blogger, Parinita Gupta will write talk about the applications and scopes of machine learning and artificial intelligence in marketing and advertising. Those who want a refresher, read the introduction to machine learning and artificial intelligence first.
The future of the marketing and advertising sector is going to be fully influenced by machine learning techniques and AI-based marketing automation. Now more than ever, AI and ML are proving to be valuable in marketing and sales because of the recent development of advanced tools in data analytics.
AI and machine learning could get us closer to of one of advertising's most-sought goals: relevance at scale.
According to Capgemini:
84% of marketing organizations are implementing or expanding AI and machine learning in 2018.

75% of enterprises using AI and machine learning enhance customer satisfaction by more than 10%.

3 in 4 organizations implementing AI and machine learning increase sales of new products and services by more than 10%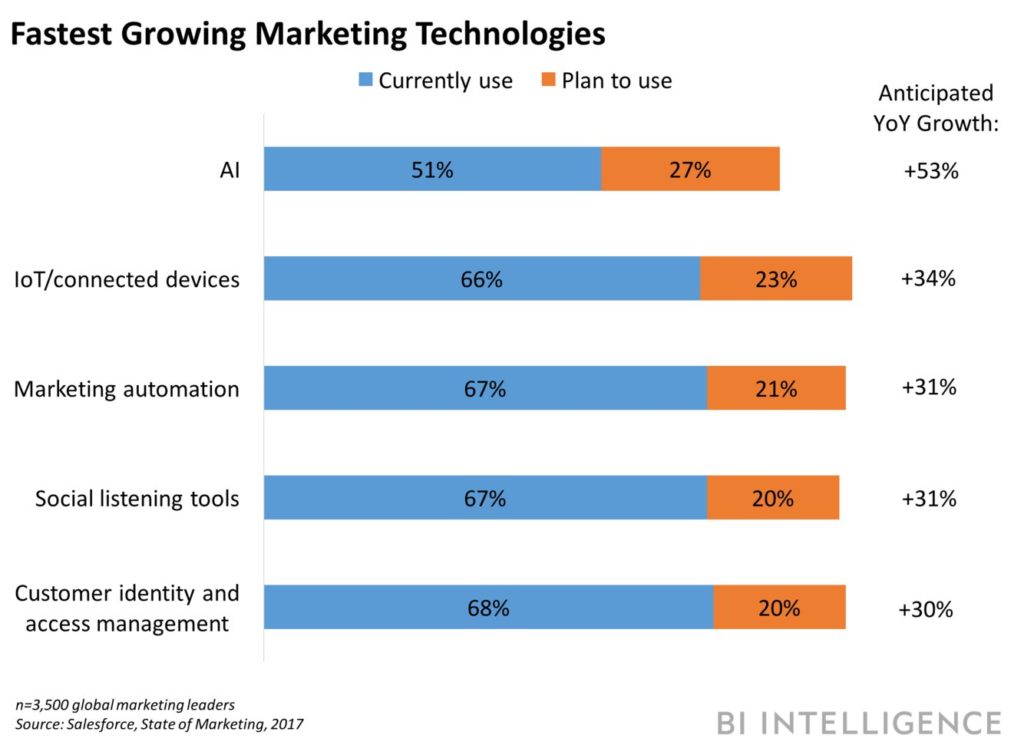 With time, AI computing techniques — like machine learning, deep learning, and natural language processing (NLP) — will become increasingly important to data-driven decision-making.
Machine Learning (ML) and Artificial Intelligence (AI) in Marketing and Advertising
Co-Authored by Parinita Gupta
Artificial Intelligence is the computer ability that is able to deliver tasks, which usually demands human intelligence, such as, speech recognition, decision-making, visual perception and translation between languages. IT is the science and engineering of making computer science that aims for the creation of intelligent machines which will work and react like humans. AI is specially designed to solve the core problems like speech recognition, learning, language detection machine, computer vision, planning, problem-solving, perception etc.
ML and AI play a very important role in today's digital age of marketing. They include marketing tools that benefit the company in marketing campaigns for the products and services. Machine Learning & AI enable the marketers to extract the data from the previous campaigns and help in analyzing the data for making better and realistic decisions in the organization.
Artificial Intelligence includes advanced computing technologies with highly sophisticated algorithms and networks that recognize the patterns and discerns the meaning of large sets of data for better planning in the organization. This way, AI helps in optimizing, automating and measuring all the digital marketing activities and strategies through complex data and deep learning technology. It saves time and effort of the marketers.
Additionally, ML & AI tools provide extremely in-depth analytics and insights, which help the organization in taking the crucial decisions like planning, analyzing defining customer segments, advertising etc. Artificial intelligence (AI) and machine learning (ML) together provide revolutionary solutions to all operational marketing tasks.
They even help in automating the possible choices and trade-offs on which the employees work and also enable the tasks which were previously impossible. AI and predictive analytics are used in optimizing the end-to-end customer preference and helps in targeting more on customer satisfaction with lower costs.
Key Applications of Machine Learning and Artificial Intelligence in Marketing
ML & AI have grown its scope in terms of its use in marketing. With the advancement of internet, mass media marketing became an easy task to understand the things like consumer behavior, preferences, search history tracking, along with the implementation of SEO optimization, content marketing, and speech recognition. Some of the key applications of AI in marketing are described below.
1. Voice and Text Recognition – AI allows users to talk with the device and get the relevant information. Voice recognition technology is an AI innovation that is widely-used in every smart device. Text recognition means typing text into a text box and getting results. Both the AI innovations help the marketer to communicate with the customers either through text or through Voice note.
2. Content Generation and Curation – Content marketing is a common way of direct marketing techniques. AI is combined with content which gives a draft of the content for the upcoming event, financial report, or some market trend. Few examples of content generating AI programs are Wordsmith, Contentop, Articolo, and WordAi. Content Curation means showing the relevant content to the customers for better engagements. AI helps the marketers to provide the right content to the right customer at right time.
3. Personalized Marketing – Brand image plays a very important role. It became the most curated factor to connect with the customers.AI helps in understanding the customer more. The emotional aspects are recorded through AI which enables high conversation rates in the business.
Amazon's book or product recommendations are excellent, Spotify knows your taste in music so well, and Netflix can forecast which genre of movie you are going to watch. This all because of recommendation engines, which are powered by machine learning and AI. There is no shortage of marketing personalization tools that are being used to create a truly personalized experience for customers.
Today's sophisticated online recommendations go vastly beyond a simple human-determined set of guidelines, or even a simple set of historical ratings from other users. A recommendation engine (you'll also frequently hear the term "recommender system") can pull from reams of nuanced data in order to draw conclusions from behaviors, actions, etc…
4. Understanding User Behaviour – A common issue that marketers face in data-driven advertising is that there is an overwhelming number of data sources, analytics packages and marketing software services with noisy data that can be hard to classify without the proper technology to analyze these.
Users traces are collected in the form of cookies and cyber footprints. AI helps the marketer to track the customer through the saved cookies and enable them to understand the purchase behavior of a customer. This is considered to be a target-oriented marketing strategy.
5. Programmatic Advertising – Programmatic advertising is the automated process of buying and selling ad inventory through an exchange, connecting advertisers to publishers. A classic example of programmatic advertising is SEM advertising on channels like Google (AdWords), Facebook, and Twitter.
Artificial intelligence technologies have algorithms that analyze a visitor's behavior allowing for real-time campaign optimizations towards an audience more likely to convert. Programmatic advertising uses artificial intelligence technologies… and real-time bidding for inventory across mobile, display, video and social channels.
Programmatic media buying includes the use of DSPs, SSPs and DMPs. DSPs, (demand side platforms) which facilitate the process of buying ad inventory on the open market, provide the ability to reach your target audience due to the integration of DMPs (data management platforms). DMPs collect and analyze a substantial amount of cookie data to then allow the marketer to make more informed decisions of whom their target audience may be.
6. Sales Optimization – Various AI sales algorithms are used to optimize the sales and understand the consumer behavior. Targeting potential customers, understanding user behavior and pitching the right way to obtain conversions are considered to be the few tasks which are executed by using an AI interference.
Some other applications of Machine Learning & Artifical Intelligence in Marketing are:
Remarketing and re-engagement
Running strong personalized email campaigns
Marketing automation
Chatbots
Personalized web pages and apps
Finalizing leads
Optimizing Ad targeting
Predictive analysis
Case Studies of Machine Learning and Artificial Intelligence in Marketing & Data Analytics
Major case studies that illustrate AI and machine learning technologies which are being used across industries to help drive more intelligent market decisions are-
1. Google analytics for instant activation of Remarketing –
Google Analytics (GA) is a smart list which is being used by many companies to automatically identify Global Tech LED prospects i.e "most likely to engage"aspect. GA gives an ecstatic way to remarket or focus more on targeted customers.
2. IBM WATSON COGNITIVE computing –
Armour's UA Record app was built using IBM Watson Cognitive Computing platform. IBM Watson Cognitive is an analytics tool which was specially designed to serve as a personal assistant to the users. Real-time data is collected manually through AI chips and analyzed for a better understanding of the data which is extracted. UA Record app collects the individual data like sleep, fitness, health, nutrition and other attributes.
3. IOT and AZURE STREAM ANALYTICS –
Azure Stream Analytics is used to analyze the customer behavior, customer response and Bigdata which is stored in the cloud. This system helps in getting the information like weather, location, time of day, purchasing behavior and response of the customer. IOT is the connection of digital devices with internet.
4. TRAX Retail Execution –
Trax's imaging technology is used by the Coca-Cola company. Coca-Cola Amatil sales representatives use Trax Retail Execution image-based technology to take pictures of stores shelves with their mobile devices. These images are saved in the cloud and analyzed with the help of AI's and make instant reports. These reports help the organization to assess the stock and take major decisions in the organization.
5. AgilOneAdvanced Analytics – AgilOne Analytics' provides a consolidated view of online and offline channels between buyer groups and make better segmentation decisions. AgilOne Analytics are used to get the information about integrated promotional activities and lifecycle campaigns across channels. This process helps the company in achieving the sales goals and also increase the sales during non-peak months and increasing in-store traffic.
Tools that Leverage Artificial Intelligence and Machine Learning in Marketing as per TopRank Marketing
Digital Marketers have been using tools like Salesforce, Marketo, HubSpot, CrazyEgg, Kissmetrics etc. Here are few new-age popular ML & AI driven tools for marketing.
Acquisio Turing – A set of 30 high frequency predictive algorithms working together to ingest search marketing campaign data across platforms. Data such as seasonality, times of day, times of week, location, positioning, ad platform, campaign and others enable the platform to self-learn and make smart bid and budget decisions in real-time.
Albert – An autonomous platform that uses AI: predictive analytics, machine learning, natural language processing and other proprietary algorithms to execute seamlessly across all channels, paid and non-paid, including email, mobile, social, search and display.
Atomic Reach – Delivers a deep understanding of what makes your content perform and how to perfect it.
Automat – AI and machine-learning technology that helps brands deliver messaging experiences that are tailor-made for each individual consumer and dynamically optimizes conversion for the best results.
Bloomreach – An open and intelligent platform for businesses to build, extend, personalize, analyze, test and optimize their digital experiences across all channels.
Boost Linguistics – An AI-powered platform for your team to drive revenue by personalizing search and browse experiences at scale and AI to improve site structure, content, and landing pages, maximizing SEO at scale and driving traffic.
CaliberMind – Connects, unlocks, and activates data to help high-growth B2B SaaS organizations to acquire new buyers, grow revenue, and improve the customer experience.
Conversica – AI Sales Assistant helps companies find and secure customers more quickly and efficiently by automatically contacting, engaging, qualifying and following up with leads via natural, multi-channel, two-way conversations.
CORTEX – A social media content optimization platform for marketers and agencies to continuously improve post engagement.
Crayon – Market and competitive intelligence tools to track, analyze, and act on everything happening outside of the four walls of your business.
Datorama – One Platform for all marketing data, investments, KPIs, and decisions to connect data, report across channels and campaigns, and surface the right insights instantly.
Drift – A conversational marketing and sales platform (chatbot) that connects your business with the best leads in real-time. Like a virtual assistant for your website, Drift lets you turn any conversation into a conversion.
Emarsys – Understand each contact as an individual customer and execute highly personalized campaigns at scale with AI solutions.
FindTheRipple – The AI-driven platform supporting marketers in creating content with impact, finding untapped trends and resonating digital assets for target audiences.
Genie – A recommendation engine that provides accurate predictions of consumer purchase behavior.
Google Cloud AI – Build chatbots, do the analysis of video, images, and text.
Idio – Demand Orchestration platform that learns from each interaction to improve engagement and accelerate demand at large B2B enterprises. Automates 1:1 engagement with target accounts, at scale & across all digital channels.
Intellyo – The Creator Engine leverages machine learning and data-driven analytics to automatically tell you which actions to take to build quality into your content. Features include topic research, workflow management, content quality analyzer and customizable service integrations.
Invoca – Enables granular campaign attribution to understand why customers are calling, gain real-time intelligence about who's calling and analyze what's being said in conversations.
Jetlore – Artificial intelligence-powered "learning to rank" technology that helps retailers build stronger customer loyalty, higher conversions and increased revenues.
KYNDI – Explainable Artificial Intelligence platform for government, financial services, and healthcare with AI products that analyze massive amounts of data, making organizations and people 100X smarter, 100X faster.
Lexalytics – Text Analytics & Survey Analysis with customizable Sentiment Analysis, Categorization & Named Entity Extraction. Platform leverages machine learning, artificial intelligence and natural language processing to allow enterprises to create custom analytics solutions to address their unique data problems.
Lucy – Solution from Equals 3 powered by Watson. Lucy delivers insightful conclusions, refined segmentation analysis, killer marketing plans, and world-conquering media strategies.
Market Brew – Artificial Intelligence Platform for SEO Teams.
MarketMuse – AI-powered research assistant that accelerates content creation and optimization so you can win in organic search.
Motiva AI – Learns to adapt your messaging to customers automatically and delivers better engagement, at any scale.
Nudge – Access new accounts, analyze deal risk, and measure account health – powered by relationship intelligence.
Onespot – Technology platform for personalizing content marketing across digital channels.
PaveAI – Turns Google Analytics data in actionable insights + reports with our data science AI algorithm.
Path – An intelligent messaging platform that helps businesses generate more leads, close sales faster, and improve client service.
People.ai – Automatically capture all sales activity to drive intelligent sales management and marketing insights.
Phrasee – Enterprise marketing solution that uses artificial intelligence to generate brand-compliant marketing language on a client-to-client basis.
Quill – Powered by Advanced Natural Language Generation, Quill is an intent-driven system that automatically transforms data into Intelligent Narratives at scale, in conversational language anyone can understand.
Rocco – AI-powered social media marketing agent who will suggest fresh content that your followers are likely to engage with.
Sentient Ascend – A patented AI Conversion Optimization solution that mimics biological evolution, enabling it to quickly learn, adapt and react to determine the best performing design from the building blocks you provide.
Smartly – Facebook and Instagram advertising automation and optimization platform with machine learning.
SmartKai – AI-powered assistant that manages your social media marketing.
Stackla – AI-powered enterprise platform to discover, manage and display the most engaging user-generated visual content across all marketing touchpoints.
The Grid – Molly, a AI-powered web design platform uses machine learning combined with constraint-based design and flow-based programming to make form dynamically adapt to content.
Unmetric – Xia provides AI-powered social media marketing insights to create compelling content.
Vestorly – Vestorly uses artificial intelligence to build personalized touch points with news, blogs, or your own content.
Wordsmith – Solution from Automated Insights that uses natural language generation to convert data into content.
X.ai – An artificial intelligence personal assistant who schedules meetings for users.
Yseop – Artificial intelligence software writes and explains data in six languages using natural language generation.
ZetaHub – Marketing Automation powered by AI.
Future of Machine Learning and Artificial Intelligence in Marketing and Advertising
The future of marketing vis-à-vis Machine Learning & Artificial Intelligence is considered to be more innovative and automated. International software development organization Pegahighlighted few things which boost up AI's related to marketing in future.
Machine Learning and AI will help companies to build up a corporate culture with the utmost focus on the customer. It will help the organization to optimize marketing goals such as personalization, understanding customer behavior, customizing the engagements, pitching process, making more accurate predictive analyses, saving time on finding and converting leads.
The Virtual Assistants like Siri, Alexa, Watson, Cortana, and Google Assistant will become more intelligent and enhance the function of chatbots. ML and AI will save time and expenses for all paid digital marketing campaigns which are easily manageable and maintained. ML and AI will also help the companies in saving costs, optimizing budgets, make tasks more streamlined for employees, reduce time by automating sales processes, and personalize the customer experience across the entire buying cycle.
By 2057, the gaps between traditional marketing and digital marketing will be filled and will be overtaken by many AI algorithms, which will provide better and realistic solutions to impossible questions.
Talent Scarcity is the Biggest Challenge in Deploying Machine Learning and Artificial Intelligence in Marketing
Machine Learning and AI tools have become very much accessible and affordable today. But, despite all the technological advancements, talent is a major concern for organizational leaders, given that labor costs and services together now account for a whopping 53%% of total marketing budgets (Gartner).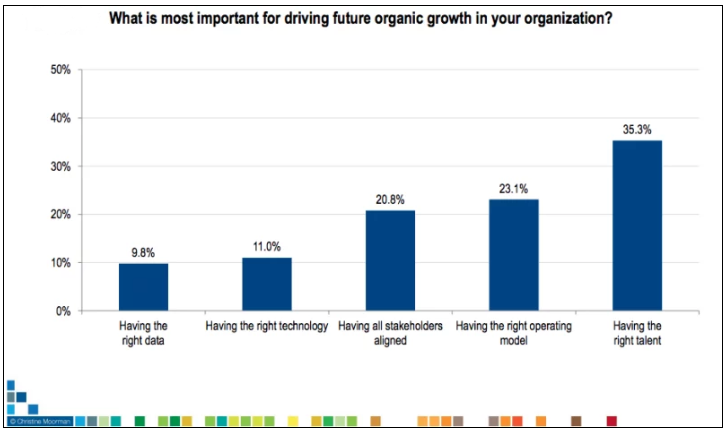 According to a research by Markets and Markets, the spending on machine learning technologies and applications is expected to grow from USD 1.03 billion in 2016 to USD 8.81 billion by 2022, a compound annual growth rate of 44.1%. Demand for artificial intelligence and machine learning specialists India is expected to see a 60% rise in 2018 due to increasing adoption of automation, as per a report by KellyOCG India.
According to Mohan Lakhamraju, Founder & CEO, Great Learning, with IT companies rapidly digitizing; we are already witnessing an era of jobless growth. Re-skilling is the need of the hour. So, if you are a business owner, focus on providing the right training to your team. If you are job-seeker, it's time to pick up the essential skills (technical & soft skills) so that you can implement machine learning and artificial intelligence in marketing & advertising effectively. If you are looking for Interim Marketing Jobs, take a look at suziewalkerexecutivesearch.co.uk.
The expression, "Marketers are data rich and insight poor" is truer today than ever.
In an age of too many choices, increased competition for customer attention requires every advantage to optimize for reach, engagement, and conversion. Marketers are using ML & AI to automate and optimize their marketing to meet customer appetite for personalized experiences.
Recommended Posts:
How Artificial Intelligence is Creating Jobs for Arts & Humanities Students
Best Online Courses on Machine Learning, Artificial Intelligence, Deep Learning, and Analytics
Best Curated Online Courses on Digital Marketing
Featured Image Source: Sokrati