According to modern researchers, a child's success or failure isn't only determined by cognitive skills. Social Emotional Learning (SEL) skills, or those most related to character, including grit, optimism, and self-awareness, are other critical to child's development, as it directly correlates to success and happiness as an adult. Developing these core life abilities through social-emotional learning is very important for success in studies and jobs – hence overall career success. Our friend Anna Kucirkova, who earlier wrote about how soft skills can help you find a job, is back with another post. This time she writes about how lifelong success begins with social-emotional learning.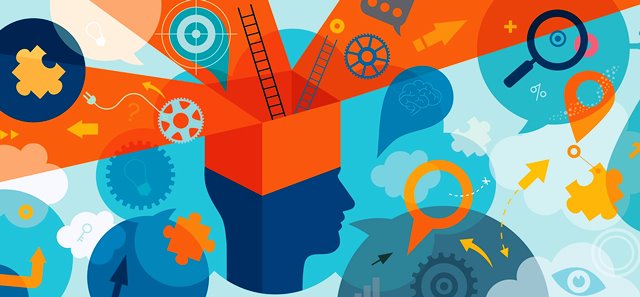 How Social Emotional Learning Can Lead to Career Success
By Anna Kucirkova
Introduction
Emotional intelligence and soft skills are quickly becoming the most important and many sought-after abilities across several industries. Business and technology practices are evolving so fast that these skills almost take a back seat and are replaced by the need to learn new ones. As a result, many businesses are concentrating more on soft skills and fluid intelligence that people portray. They are also looking at candidates who portray a wide variety of skills, such as a proliferacy in a foreign langauge. That's why so many are signing up to EffortlessEnglishClub.com.
From teamwork to empathy, today's candidate is more proficient in reading a room, than a book. The latest research has shown that these soft skills can be fostered or taught at an early age through educational programs that are more specific than the ones we currently have. Social-emotional learning is a new trend that is becoming famous with large companies as well as with small schools.
What is Social-Emotional Learning?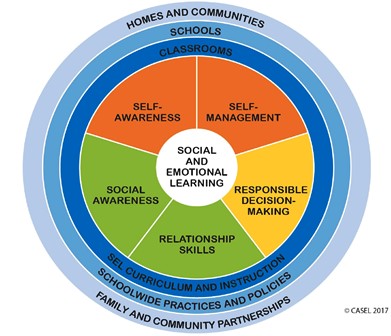 Social-emotional learning is a process through which adults and children gain and effectively apply the attitudes, skills, and knowledge necessary to manage and understand emotions, set and attain positive goals, maintain and establish positive relationships, and above all make wise decisions. What people previously perceived as secondary skills or did not bother to develop them are now viewed as teachable tools that can help you succeed. They are now regarded as key contributors in attaining academic success.
Social-emotional learning applies deep psychological and social techniques to assist students to communicate better, solve complex problems and manage emotions- all these skills translate to lifelong success at the workplace or home. Here are some of the basic abilities refined and taught by in social-emotional learning programs.
Why is Social-Emotional Learning Important?
Social-emotional learning helps people to create and develop meaningful relationships with other people who come from varying backgrounds. It also allows people to control their emotions, behaviors, and thoughts when confronted by various situations in their life. It promotes self-awareness helping people to understand personal opinions or feelings and how they could result in multiple behaviors. Finally, social-emotional learning assists people to make healthy decisions about social interactions and act based on social norms, safety concerns, and ethics.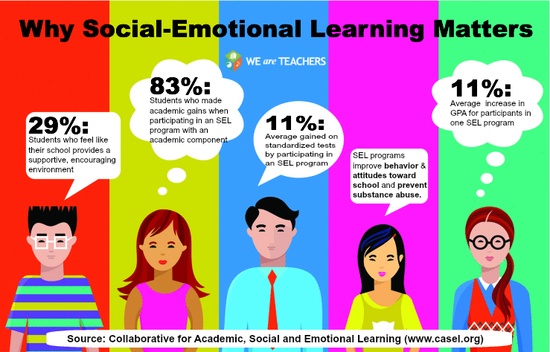 Educators believe that there are certain ways that you can introduce these concepts in a normal classroom environment from initial stages, thus promoting emotional learning using a social context. Social-emotional learning concentrates on practicing skills that are connected with emotional quotient (EQ) just like normal academic programs focus more on intelligent quotient (IQ).
Teaching Social-Emotional Intelligence to Children
Many schools are currently integrating social-emotional learning into their curriculum. This involves personal discussing problems with students and brainstorming ways of solving them, during such sessions students will share an edifying or upsetting incident from their lives, and other students will admit that they had the same experiences, how they handled the situation and whether they had any outcome.
Teachers facilitate discussions by asking questions and encouraging all students to participate in the debate. Students can share different and similar experiences, as well as feeling the urge to join, which helps to grow their SEL skills.
Researchers and educators know that hinder or assist students to excel academically. Recent studies showed that students who had acquired SEL skills performed better than those who did not have. Modern educators have recognized that schools should not be isolated learning centers. Adults cannot perform well in the workplace if they are worried about external factors. The same case applies to children.
The ability to handle, overcome and process life problems is crucial for kids as they navigate through their foundation years. And how they are taught to act in many situations can have an impact on how well they handle stressors, talk with co-workers and succeed in professional environments.
How Social-Emotional Learning Prepares Children to Become Successful Professionals
Employers expect their employees to perform various tasks and the trend is growing as we approach the future. Modern leadership and emotional intelligence are some of the traits that employers are looking in employees these days.
Multiple studies have proved that concentrating on emotional and social skills is directly correlated with career success, academic success, citizen and mental health engagement. There is scientific evidence that shows that learning about good emotional and social behavior is beneficial to every aspect of human life.
Conclusion
According to a report by the World Economic Forum, emotional intelligence was ranked as a number six factor that employers are looking for when hiring employees. Times are slowly changing, and employers have shifted their focus to the emotional and social skills of their employees. Rigid thinkers and conventional taskmasters have no place in the modern job market. If you want to know more about social-emotional learning, then visit https://www.cornerstone.edu/blogs/lifelong-learning-matters/post/is-social-emotional-learning-the-foundation-of-success for more details.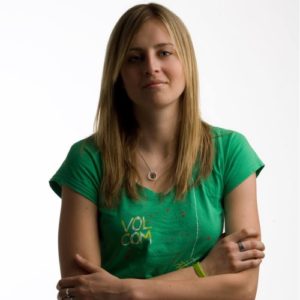 Author Bio:
Anna Kucirkova speaks three languages and has a passion for kids and writing. While she has been to many places in Europe and South East Asia. Although, she still wants to explore the rest of the world. You can connect with her on LinkedIn.
Featured Image Source: EdSurge