In a country like India, where agriculture is a big industry, organic farming has always been the most natural method of growing crops. In the 1960s, the Indian agriculture sector gradually witnessed a shift to synthetic fertilizers. But, the country started adopting organic farming during the late 90s' and in 2004 and India introduced the National Project on Organic Farming. In this post, we will look into the organic food & beverage market in India.
Organic Food & Beverage Market in India
Co-authored by Ankita Murmu
Currently, Indians are getting more health-conscious and demanding for healthy and nutritious food items. With increasing stressful life & hectic schedule, consumption of processed & fast food, rowing risk of lifestyle diseases, and rising disposable income, a significant percentage of the urban population is now looking at the organic food items.
While organic food may not be mainstream yet in India, nevertheless, it is more accessible than before. Most shopping malls and hypermarkets in India have a dedicated section of organic products. According to ASSOCHAM, metropolitan cities have witnessed a 95% increase in demand in the last five years.
Organic Food & Beverage Market Size
Organic food & beverage vertical in India is now one of the biggest players in the business and has seen its revenue rise from INR 25 crore in 2008 to INR 175 crore in 2013.It is an emerging niche market in India and its primary consumers are high-income urbanites. The total market size for organic packaged food in India in 2016 was INR533 million, growing at 17% over 2015, and is expected to reach INR871 million by 2021, as per the ASSOCHAM-EY joint report titled, 'The Indian Organic Market: A new paradigm in agriculture'.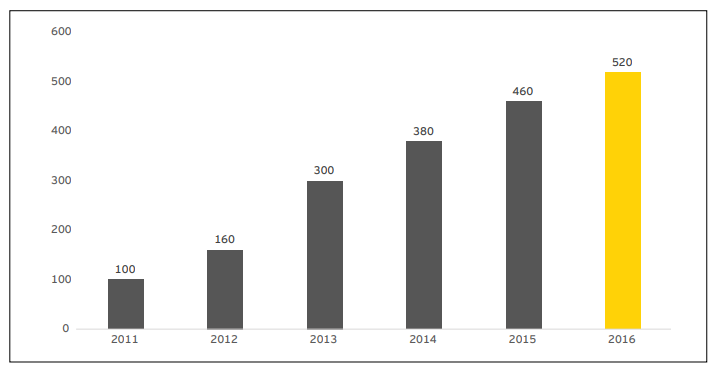 In 2015, about 95% of the brands existed in top 10 metros like Delhi-NCR, Kolkata, Mumbai, Pune, Chennai, Bengaluru and other Tier II cities. With favorable government policies, companies are witnessing notable growth as demand from metro cities increase with the entry of several new players in the organic food market such as Conscious Foods, Sresta, Eco Farms, Organic India, Navdanya and Morarka Organic Foods.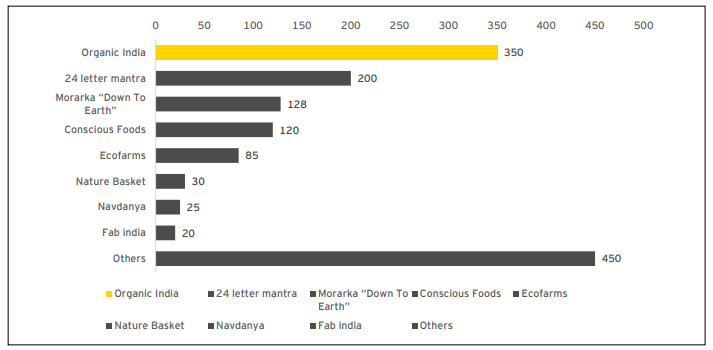 The trend of rising demand for organic food items is not an India-specific scenario. The global organic food and beverages market expected to reach $327,600 million by 2022 from $115,984 million in 2015 at a CAGR of 16.4% from 2014 to 2022.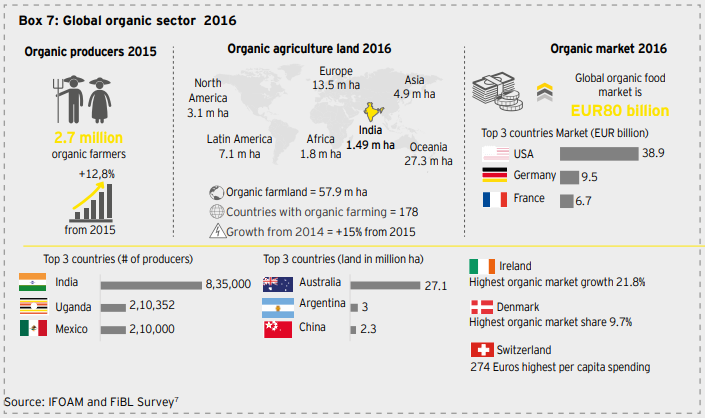 Organic products follow environmentally and socially responsible approach and are grown without the use of chemical fertilizers and pesticides. This method of farming preserves the reproductive and regenerative capacity of the soil, good plant nutrition, and sound soil management. It also produces nutritious food rich in vitality which has resistance to diseases.
Organic Food & Beverage Demand in India
The primary consumers of organic packaged food and beverages are the high-income urbanites. India has the existence of various agroclimatic zones within its borders to produce all varieties of organic products. 40% of Consumer Packaged Goods (CPG) industry constitute India's food and beverage category. In 2009 – 2010, India has observed a market growth of INR 40,000 million in 2016-17 from INR 675 crore, with an annual growth rate of 25% alone in the organic food and beverages segment. India is in the ninth position among 178 countries that actively practice organic agriculture after Australia, which tops the list, has more than 27 million hectares under organic farming. At present, India is home to more than 835,000 organic producers, 699 processors, 669 exporters for organic cultivation. If you want to get started in agriculture, visit Agron
and learn more about the products you'll need to produce healthy plants.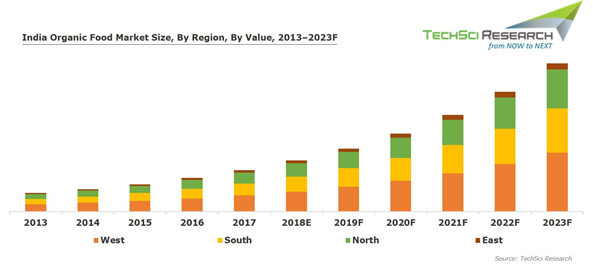 In 2015-2016, the total area under organic certification was 5.71 million ha. It included a collection of minor forest produce of 26% cultivable area with 1.49 million ha and 74% (4.22 million ha) forest and wild area. The organic production area in India is regulated by two systems.
1) National Programme on Organic Production (NPOP)
It includes accreditation programme for Certification Bodies, standards for organic production, promotion of organic farming etc. The standards of NPOP have been recognized as equivalent to the country standards of European Commission and Switzerland for production and accreditation system of unprocessed plant products. Similarly, USDA(United States Department of Agriculture) recognized NPOP conformity assessment procedures of accreditation as equivalent to that of US. Indian organic products with these recognitions are duly accepted by the importing countries.
2) Participatory Guarantee System-India (PGS-I)
PGS began in 2006 and officially recognized in 2015. PGS-India certification process does not cost any fee other than a nominal cost as set by the farmer community. At present, PGS-India is implemented by the National Centre of Organic Farming (NCOF) under the National Project on Organic Farming (NPOF), Department of Agriculture, Cooperation and Farmers' Welfare, Government of India.
Companies and States operating in the Organic Food & Beverage Market in India
Companies
Suminter India Organics Private Limited
Nature Bio-Foods Limited
Organic India Private Limited
Sresta Natural Bioproducts Pvt. Ltd.,
Phalada Agro Research Foundations Pvt. Ltd.
Mehrotra Consumer Products Pvt. Ltd.
Morarka Organic Foods Pvt., Ltd.
Nature Pearls Pvt Ltd
Conscious Food Private Limited
Nourish Organics Foods Pvt., Ltd.
Mother Earth
EcoFarms (India) Ltd.
ElWorld Agro
Organic Foods Pvt. Ltd.
Some of the States under organic certification
Madhya Pradesh- largest area under organic certification with an area of 4.62 lakh ha
Maharashtra- 1.98 lakh ha
Rajasthan- 1.55 lakh ha
Telangana- 1.04 lakh ha
Odisha- 0.96 lakh ha
Karnataka- 0.94 lakh ha
Gujarat -0.77 lakh ha
Sikkim -0.76 lakh ha
In the year 2017-18 India produced around 1.70 million of certified organic products which included all varieties of food products namely Oil Seeds, Sugarcane, Cereals & Millets, Cotton, Pulses, Medicinal Plants, Tea, Fruits, Spices, Dry Fruits, Vegetables, Coffee along with, Oil seeds, Sugar crops, Cereals and Millets, Fiber Crops, Pulses, Medicinal, Herbal and Aromatic plants and Spices and Condiments.
Organic Beverage Startup Ecosystem in India
Among all the organic food products, the healthy beverages & drinks have grown considerably as well. The Indian beverage market size is around INR 65,000 crore, and likely to grow at a rate of 14% CAGR. Another key reason is the emergence of startups that are banking on personalized customer experience and online marketing. Know more about the healthy and organic beverage startup ecosystem in India.
Benefits of Organic Food & Beverage
Consumers are shifting towards organic products because of the increased concern about their health, the environment's health, and its global implications.
Organic food meets the health and safety requirements of conventional food. Studies have shown that organic food is much safer and contains a lower concentration of pesticides as compared to conventionally grown food. Hence, organic farming is believed to reduce health risk.
Organic products ensure safety because their production does not involve toxins or GMO's.
Organic fruits, vegetables, and grains have been found to be containing a high nutritional value with fewer nitrates and cadmium. They contain fewer pesticide residues than non-organic crops.
Eco-friendly agriculture practices help reduce water pollution, improve the soil quality, promotes conservation of biodiversity and, enhances ecological functions and ecosystem services.

Challenges within the Organic Food & Beverage Market in India
The organic farming sector in India transforming into a new stage due to an increase in new ventures.
Some of the key challenges faced by the organic sector today are:
Costs, lengthy procedures, international validity, inadequate certifying agencies and supporting infrastructure facilities for verification are prevalent in organic farming certification. For each farmer, it costs around INR 50 and INR 500 per year for certification and approximately INR 2,500 for internal audits and documentation. It is difficult for a small group of farmers to bear such a high cost.

Image Source: The Alternative

The standardized organic agriculture inputs are much more expensive than conventional agricultural inputs. Farmers lack these inputs due to its high cost.
Organic products require separate packaging material for sale and promotion and distinctive branding to differentiate between organic and conventional products. India lacks such standards.
Many consumers in India are still unaware of the health benefits of organic food products mainly in non-metro cities. Consumers are not able to distinguish between conventional farming and organic farming.
Limited availability of organic food products poses a serious challenge to the growth of the Indian organic food industry. Only very few retail shops in India store and sell organic food items.
Possible Solutions
To overcome the challenges, state-level organic policies and organic cells need to be implemented to monitor organic production. The government should promote the use of biofertilizers and biopesticides to decrease the cost of cultivation and decrease the use of fertilizers and pesticide.
According to a report produced by Assocham and Ernst & Young, the organic products market in India has been growing at a CAGR of 25%. However, it is expected to touch INR ?10,000 – ?12,000 crore by 2020 from the current market size of INR ?4,000 crores.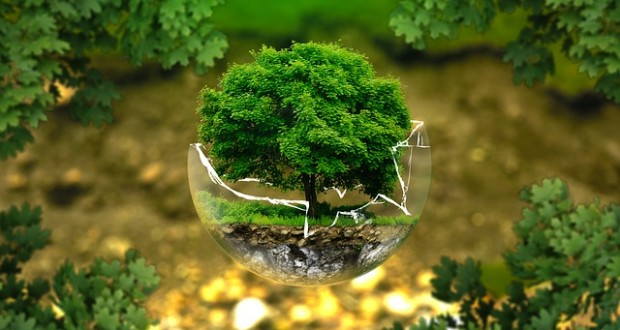 Future Perspectives
The market is definitely there – availability of resources for organic farming, talent pool, technology support, Government support, and more importantly, consumers with health consciousness & disposable income.
At the same time, competition from global players is also there. Then the Indian players often lag behind when it comes to informing the audience, branding, and marketing. So, that needs to be taken care of.
Finally, the organic food & beverage vertical is going to create a huge number of business and job opportunities in India. So, this would be a great time to consider studies and careers around streams like agricultural science, food science, supply chain & logistics, chemical & process engineering, microbiology, plant biotechnology, branding & advertising, and social entrepreneurship.
Related Articles:
Top 10 Food Items for Reducing Cholesterol
Top Biotech-Pharma Companies and Startup Ecosystem in India
Featured Image Source: Franchise India