The CV or resume is an important component of the application kit. Your CV is the first chance you get to make a good impression on the admission committee while applying for Masters (MS) abroad. So, it's only wise you spend time and effort to make that perfect CV. In this post, I will share the key tips and guidelines on how to write a CV for Masters application.
An academic CV shares a lot of similarities to that CV that you send for job applications. But, there are a few significant differences. In this post, we will look at the key guidelines along with a few templates and real sample CVs.
Ideal Format of a CV for Masters Application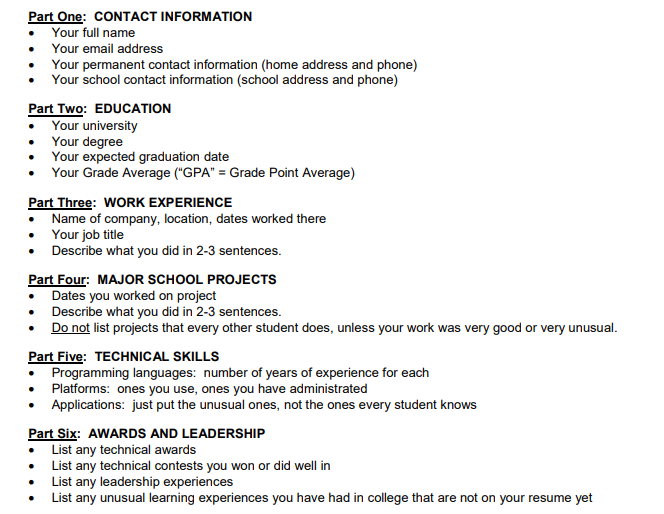 Sample CV for Masters Application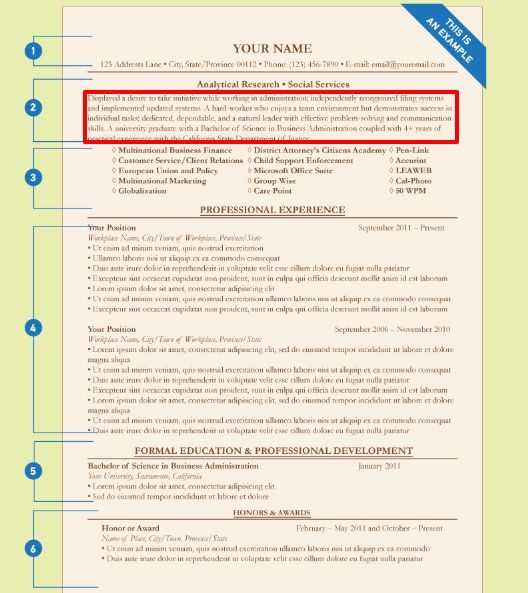 CV for Masters Application – Key Tips for the Content
The Beginning
Write your name in bold and block letters.
Avoid mentioning Curriculum Vitae. When you are uploading the CV on the application portal, the admission officers know that this is your CV. So, don't waste the space.
Under your name, you must include your contact details – location (you don't always need to write the full address), email-id, and contact number (with country code).
I also advise putting links to your LinkedIn, GitHub or ResearchGate profiles.
Introduction (Profile or Career Summary)
Avoid that career objective cliché. Instead include a concise and professional summary or profile section.
This section should provide a quick glimpse into who you are. For example, you can start by saying that you are a B.Tech. Graduate or Electrical Engineering Major with 2 years of work experience in the software (or IT) domain.

You could also use this section to highlight your most notable and remarkable experiences and accomplishments (say any prestigious award or publication). Basically, the idea is to include anything that will set you apart from others applying for the same program
Make sure you write the summary in an easy to read format. Use bullet points and bold text to grab the reader's attention. This make them want to learn more about you.
Education Section
Since you're applying for admission to an academic program, your CV or resume should emphasize academic accomplishments.
In addition to mentioning your alma mater, degree earned and year of graduation, point out some of the more relevant classes (or modules) you took.
Below is a snapshot from a real CV.

Your formal education history, other qualifications, and even work experience should always be in the reverse chronological order.
While applying for Masters, it's batter to stick to the undergraduate education and other professional qualifications. No need to go into details about your high school subjects.
If applicable, you can also mention the online courses or certifications under a sub-heading like Other Qualifications.
Work Experience (including Internships, Projects, and Voluntary Work)
This is the part where a majority of Indian applicants struggle with a lot. Here are few key points that you need to remember:
Emphasize your achievements, not your job responsibilities!
Programmers code, analysts analyze and consultants consult. Don't use this section to repeat your job title.
Your resume will be much more impressive when you talk about what you achieved in your position.
Leadership is usually thought of as being in charge of a project. It can also manifest itself by being able to get others to work on a project that's important to you.
Think of the different ways to exhibit leadership in each of your positions. Try to express your leadership in ways that benefited the class, college or the organization you worked for.
Quantify your achievements or business impact, and be specific.
Incorporate information detailing how much or by how many you changed something.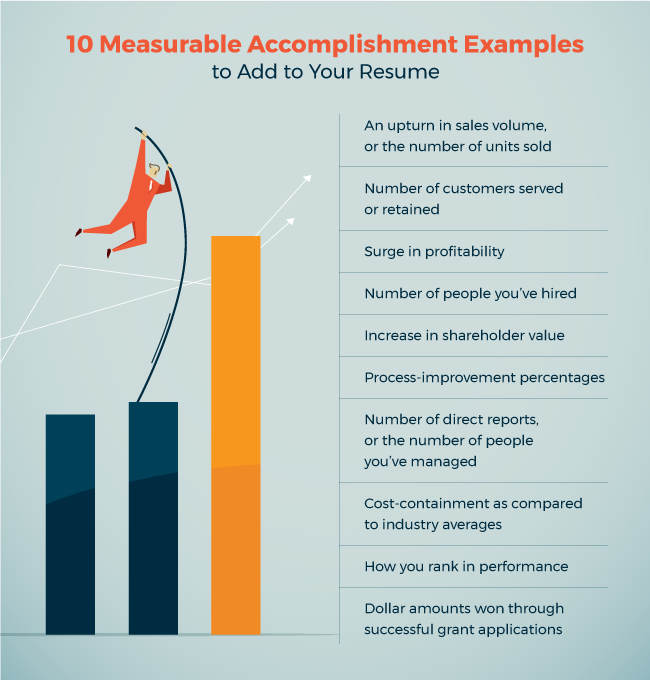 Don't just say that you led a team; instead, say that you led a team of 10 members that increased the revenue generation by 30% or customer acquisition by 70%.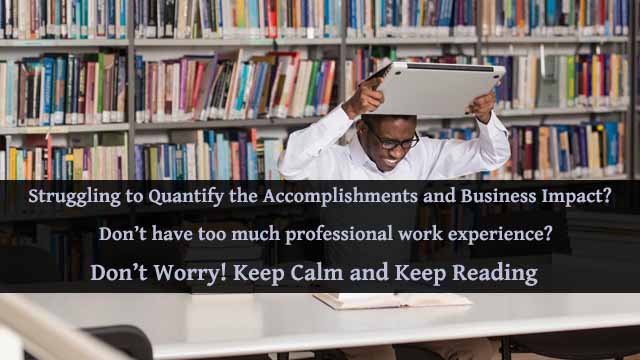 Quantifying Accomplishments
Here is a real example of how to do it!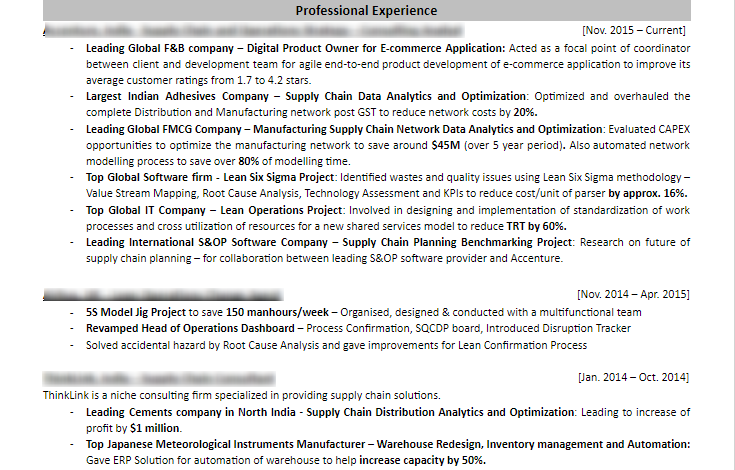 Technical Skills
In the case of an MS application, the reader (admission officer or faculty member) is looking for your subject matter expertize. So, it's always a great idea to showcase your domain skills.
Moreover, if you are applying for a STEM program, you must make a section on Technical Skills.
I used to put it right after the profile section.
Have a look!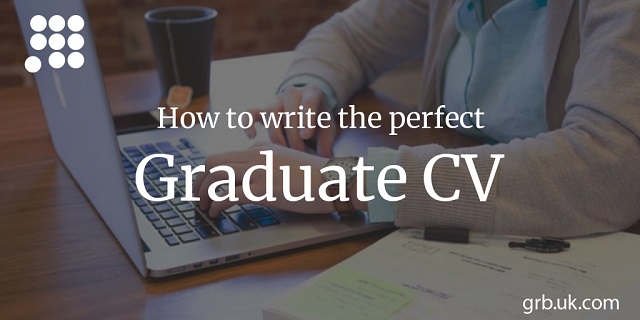 Tips for Final Year Students and the Folks with Less Work Experience
What if you are a fresh college graduate or lack work experience to demonstrate measurable achievements?
More often than not, it's the final year students or folks with little professional work experience, who apply for the Masters programs abroad. So, it can be difficult to present measurable achievements.
You may not have a lot of professional experience, but internships or volunteer work can tell admissions officers about your interests while demonstrating that you're willing to work hard for reasons other than immediate material rewards.
How to Put Your Internships on the CV while Applying to Foreign Universities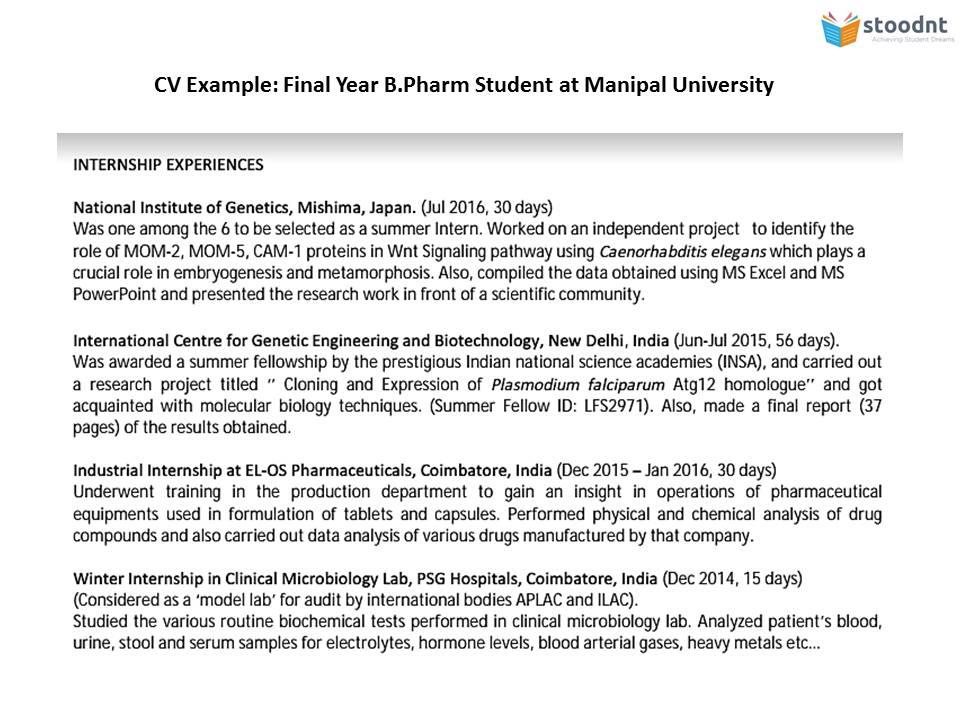 Quantifying Achievements without Professional Work Experience
Demonstrate measurable accomplishments through voluntary work, internships, co-curricular and extra-curricular projects, online courses (MOOCs) that you undertook.
You could demonstrate the measurable achievements by including the following:
Awards you have won
Number of publications under your belt
Monetary budgets you've managed
Amount of money you've saved
Number of customers you served
Numbers or percentages of performance benchmarks achieved in a project
Percentages by which you've improved efficiency
You could also incorporate measurable accomplishments through the following:
Helped XYZ NGO or College Fest Committee to raise INR 5 Lacs
Participated in ABC social project and helped 26 unprivileged kids and 350 rural women with their education and livelihood respectively.
Organized the company's annual international summit, including flights, accommodations, and itineraries for more than 30 attendees.
Reduced time spent on inventory by 20% by reorganizing physical storage of supplies.
Assisted HOD in overseeing and educating 30 students for six months.
Developed a comprehensive student submission system for final exam projects in the University's online portal, accessible by more than 3,000 students.
Created 22 new blog posts, making up 30% of the company's online content.
Helped the organization with their social media management and increased the number of followers by 106%, 45% and 90% on Facebook, Twitter and YouTube respectively.
Extracurricular and Other Activities (including Interests or Hobbies)
Your MS resume should certainly have a section dedicated to extra-curricular activities.
This is also where you can include other qualifications, workshops & seminars you attended, and skill certifications.
You should use this section to demonstrate your expertise in transferable skills like Advanced MS-Excel, Programming, Public Speaking, Graphic Designing, Social Media Marketing, Creative Writing, or a Foreign Language.
It's okay to mention your hobbies and interests. But, make sure you don't list 15 hobbies.
Activities like internet surfing doesn't sound interesting to admission officers at all.
Listing travelling, music, sports, cooking, photography or reading is fine. But, it's better to be specific (travel photography or wildlife photography) and show a couple of achievements (championships or competitions).
You could also put links to your personal blog, online design portfolio or Flickr account.
This is a completely optional section. But, it helps to portray something about your personality.
References
I know you will be uploading letters of recommendation (LoRs) or filling out referee details on the online application form. But, it actually looks professional if you add your referees on the CV.
By all means, avoid quoting "References available on request" on the CV that you are going to use for MS applications.
Quick Guidelines on How to Write a CV for Masters (MS) Application
CV Length
Your CV should not be more than 2 pages. Ideally, it should be around 1.5 pages long.
It's also fine to make a one-page CV. But, since you are applying for an MS (and not MBA), I would recommend you stick to a 2-page CV format.
If needed, reduce the page margins. But, you should limit yourself to a maximum of 2 pages.
Bullet Points
Always stick to bullet points. Additionally, make sure the points are not too long. You can't have three lines under one bullet point.
Avoid long sentences at any cost.
Language
Think about the language you use, and choose words carefully to convey as much as you can about your accomplishments in the minimal amount of space a resume provides.
Please also stick to regional practises. Don't use American English if you are applying to a UK university.
Use Action Verbs
Try to emphasize your accomplishments using rather strong action verbs like led, managed, designed, developed and so on. They give a better sound bite than lukewarm words like did, know, participated.
Be Clear and Specific
Use headers and sub-headings when required. Make the CV easy to read and understand.
Using a black line between sections is a good approach.
Font size should not be less than 10. Personally, I advise 11 or 12.
Avoid fonts like Times Roman. Instead use fonts like Calibri or Tahoma.
Always put details like dates of graduation and/or employment in the month/year format.
Be Professional
No need to include your photo. You should not also mention details like marital status, religion, father's name, date of birth etc.
CV must Complement your SoP
Quite often applicants make the SoP as a repetition of the CV. The content of your CV and SoP should not overlap. Rather, they must complement each other. Read how to write an SoP for MS application.
Edit, Edit and Proofread
Always proofread even if you have got your Auto Spell-checker on. Additionally, get your CV reviewed by at least 2/3 persons that might be your friend, professor or family member.
If needed, you can also hire a professional admission consultant to for CV review and editing.
Sample CV for Masters (MS) Applications
Check out the more guidelines, templates, and samples by Harvard, UPenn, McGill, and Resumonk.
My Two Cents
A CV or resume conveys how you understand your own achievements. You need to identify those aspects of your educational and professional life that you wish to tell the admission officers.
Hence, it's a good idea to take time to reflect on and celebrate what you've done before, during and after the resume-writing process. After all, you have to believe in your application before anyone else will.
Original Source of Featured Image: Wordvice