Indian youth is interested in pursuing higher education and skills development. However, they need guidance & career counselling for jobs and higher studies abroad. At present, there are several limitations of the online career counseling and admissions consulting processes. In this post, I will share how I work (with Stoodnt) and the feedback and reviews of the users (students & graduates) who opted for online career counselling sessions and bite-size admissions consulting services in the last 12 months.
Why did I decide to Do Online Career Counselling Sessions?
For the majority of students and particularly the study abroad aspirants, the application process is one of the most daunting times in their lives.
Easy and transparent access to counselors, admission officers, current students, and alumni from top universities is limited and the majority of admission consultants are extremely expensive.
I have always been keen to help the students and young professionals to do well in their careers and/or get into top universities abroad.
The primary objective behind the one-on-one counseling sessions (over Skype, Phone or WhatsApp) and offering bite-size packages was to provide quality guidance at an affordable price with a flexible and transparent structure.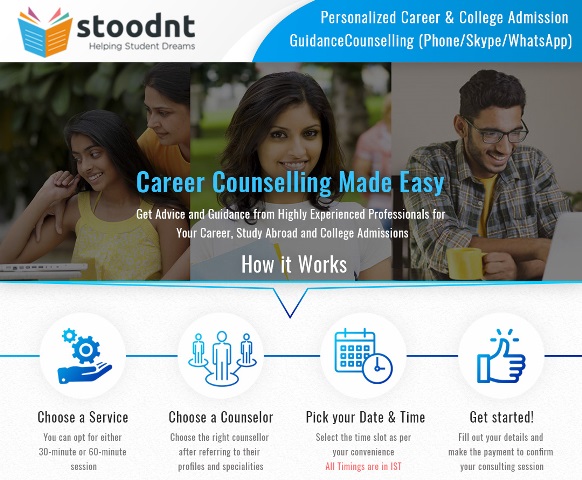 Who Should Opt for 1:1 Online Career Counselling Sessions and Bite-Size Services?
Any Student (in high school or college), working professionals or parents looking for guidance on subject/course selection, profile evaluation, career path & roadmap development, study abroad planning, application strategy, SoP strategies, job search guidance or career change can avail the online counseling sessions.
After one or a couple of sessions, if someone needs further help like personalized university shortlisting, SoP reviews or Scholarship essay editing, s/he can sign up for bite-size services.
Not everyone needs too much handholding or end-to-end guidance. It's expensive as well. So, bite-size services can be of great help and economical than the end-to-end guidance packages.
What do the 1:1 Online Career Counselling Sessions Cover?
You can discuss the following topics with me:
Queries related to Courses, Career Paths, Higher Studies, and Jobs
Profile Building for admissions at the top universities abroad
Study Abroad Planning – Courses, Universities, Test Prep, Countries, Financing & Scholarships
College List (University Shortlisting)
Application Strategy and Career Roadmap Development
Offer/Acceptance Reviews – Suggestions on choosing the right university (for the folks with multiple offers)
Confusion, doubts or frustrations in their jobs or careers
Ask anything before students/parents signing up for bite-size service or an end-to-end admission counseling package.
So, do you need help with any of the above? Feel free to book a one-on-one online counselling session with me.
My consultation fees is Rs. 1,800 (60-minutes) / Rs. 1,250 (30-minutes).
Still Worried About How Effective Are These 1:1 Online Counselling Sessions or if the pricing is worth it?
Have a look at the following the feedback and reviews of real people.
Online Career Counselling & Admissions Consulting Services Reviews (2018 – 2019)
Credibility is at its best when the message is not promoted via paid marketing. I mostly get my sessions (and clients) through blogs, reviews, and referrals.
In this article, I have compiled the best online career counselling and study abroad consulting service reviews from my clients, to help you get a deeper insight into the process and the outcomes.
Kartikeya Bhadada (New Delhi)
30-Minute Session on Profile Evaluation & Application Strategy for MS in Artificial Intelligence & Machine Learning
I had a talk with Tanmoy and it was a very enlightening conversation with him. I was considering a career change into AI from my current profile which is different from Computer Science background. He gave me a piece of very valuable career advice that I should stick to my profile strengths and what alternative courses will suit my profile through which I can gradually shift to AI.

I received many other practical insights related to the nature of the course which any general person will not be aware of. In addition, he had a good knowledge of which country is suitable in terms of quality of education and finance involved. He gives advice which is very helpful and relevant to what your capabilities and aspirations are. He ensures each and every query is covered properly and is open to even help you out later via emails.
Rohan Kelkar (Mumbai)
60-Minute Session on Profile Evaluation & Application Strategy for MS in Germany
Tanmoy has excellent know-how about exact requirements by German Universities for postgraduate programs especially MSc and MBA. Tanmoy helped me understand my position vis-a-vis current students who are applying and successfully receiving offers from German Universities. Mostly I liked that he has a very accurate understanding of German Universities and their selection criteria.
He was able to give me precise direction about various options and possibilities to explore further education options in Germany and also encouraged me to apply to programs in Germany. I think because of his profound knowledge and deep understanding of the subject matter, he can give the right direction to aspirants with diverse backgrounds and profiles.
Melissa Kim (New York)
60-Minute Session on Choosing the Right Career Path (MBA vs MS Business Analytics / Data Science)
I found our session very helpful in that you provided an objective recommendation based on my work experience and career goals. I had questions regarding whether pursuing an MBA or MS in Business Analytics / Data Science was the best path, and you spoke of the benefits of each and which program would potentially yield the best ROI. You also answered more vague questions such as "should I get an MBA?"

I realize that the answer to this question isn't straightforward and may depend on a host of personal reasons, but you unpacked practical reasons that really helped me verify my desire to pursue an MBA at this point in my career. I had been looking for someone that could objectively walk me through the options and advise whether an MBA was a sound option, as the last thing I want to do is pursue an MBA for all the wrong reasons.
Meenakshi Jeeva (Chennai)
60-Minute Session on Career Options in Research after MBBS
I had been trying to find out how to make a career in research for about a year before I had contacted Tanmoy Sir.

I wasn't able to acquire proper knowledge and the proper way to do things until I had talked to you. I wish I had contacted you a year ago, then things would have turned out different for me.

For anyone who wants to pursue a career not commonly sought after, especially research, I would definitely recommend you.

Your 1:1 session enlightened me on all the practical and real issues involved in studying abroad.

I was very much satisfied with the session. I hope to contact you again soon sir, after my post-graduation.
Mohit Ahuja (Dubai)
60-Minute Session on Job Prospects after MS Abroad and Application Strategy
The session was great. All my queries were answered.

I really liked:
The in-depth discussion about which country to choose for my MS
The specific universities within these countries that have a relevant program in data science
Multiple approaches to increase my chances of getting into the desired university
Specific feedback on my CV and networking methods
The additional help that is available in terms of shortlisting, CV, SoP, and LoR guidance
I would definitely recommend this session to others.
Avichal Gupta (Delhi)
60-Minute Session on Study in Europe and Careers in Renewable Energy
I found the session very useful for choosing the universities I want to apply to. I also found the advice and insights very useful for the research that needs to be conducted to decide what I want to ultimately specialize in. I also found your suggestion to do online courses related to what I want to do in the future very helpful as well.
Rashmi Rao (Qatar)
30-Minute Session on Career Roadmap and MS Application Strategy
I found the session to be extremely informative. Thanks to this session, I have a solid plan ahead for the coming months. All my queries were answered patiently.

I would recommend this to anyone who is interested in pursuing a Master's in Biotechnology and is worried about course and University selection, job prospects and so on.
Jiyoung Yang (Dubai)
60-Minute Session on Application Strategy for MS Data/Business Analytics
The counselling session with Tanmoy gave me a clear idea which master's program to choose considering my bachelor's degree and work experience. It was a very useful session. I would, especially to people who don't have much time left till application due and need specific recommendations to work on.
Saima Naz (Rawalpindi, Pakistan)
30-Minute Session on Profile Evaluation & Application Strategy for MS in Canada & Germany
The session was excellent in terms of insights on program choices and post-MS job opportunities. The best part was that I was able to get valuable tips on improving admission chances at the top universities and university list.

One of the big problems in Pakistan is that the majority of study abroad consultants don't provide any information unless you sign up with them for an end-to-end package.
Roshni Nambiar (Hyderabad)
60-Minute Session on Study Abroad Planning & Career Roadmap Development
At first, I wasn't sure of investing a huge amount of money in a Master's degree abroad. At the same time, I wasn't sure if I wanted to do a thesis-based research masters or just coursework with industrial experience. I was confused with my career. Initially, I posted my queries on the Free Forum (Ask Me). Later, I approached Tanmoy for a 1:1 consulting session.

Tanmoy helped me to make the right decision. Additionally, he also helped with coming up with a plan to prepare for applying to universities and also how to do it along with a list of places as to where to do it.
Eshita Sengupta (Mumbai)
30-Minute Session on Admission Offer Reviews (Offer Acceptance for MS)
My feedback about the consultation is extremely positive. I was very happy with the way the whole consultation turned out. The session was very helpful in making my decision about the next logical step ahead.

The follow-up was very prudent and seamless. It helped me in selecting a good college and be worry-free about the entire process.

I would definitely recommend this to my friends, especially when it comes to biological sciences because there is a dearth of information in this sector specifically.

Thank you so much for all your help.
Eseoghene Johnson (Nigeria)
30-Minute Session on Study Abroad Planning (Country & Course Selection)
I found the session so helpful, I am very satisfied and I will surely recommend as much as I can to others who need assistance. If only more of what you can be present in Africa especially my country Nigeria people will make better choices while getting an education. Thank you once again.
Venkata Bhaskaram Varanasi (Hyderabad)
30 Minutes Session on University Shortlisting (MS in Machine Learning / Data Science / Computer Science)
The session was informative with concrete next steps. I liked the flow of things. The pace of conversation was normal whereas usually, I prefer fast-paced (and to make the most of the time that I paid for). Describing the application from the admissions office was something that I was not expecting in a 20-25 minute call. All in all, I am a happy customer, and more can be done to delight me.
Swati Nayak (Mumbai)
60-Minute Session on Application Strategy and University Shortlisting for MS in Canada
The session was very informative. I also opted for a personalized university shortlisting service after the session. The university list and application strategies shared by Tanmoy for my Master's applications were really great.
Amey Divekar (Belagavi)
60-Minute Session on Overall Study Abroad Process and Whether to go for MS or MBA
With regards to the session, it was very informative. What I also liked was that you took into account my current skill set, my future aspirations, and also funding related requirements for recommending the institutes. I would certainly recommend it for any MBA/MS aspirant.
Joseph Paul (Oman / India)
30-Minute Session on MS Applications (University Shortlisting, Timeline Planning, and SoP/LoR)
Thank you, sir. The counselling session was really helpful. I found it very useful as I didn't know anything about the admission part. I am planning to start on my SOP and I am also starting to focus more on my verbal part. The session did really give me a push that I needed knowing the deadline dates and scholarship dates. Will keep in touch.
Reet Chatterjee (Kolkata)
30-Minute Session on MS Applications (Profile Evaluation & University List Review)
I was overall quite satisfied with the counselling session. It helped me to get a clear understanding of the selection process and I look forward to seeking further guidance in the time to come.
Ankita Bhatia (Mumbai)
60-Minute Session on Courses (after 12th) and Career Roadmap Development
The online career counselling session with you was great. It made me clear on a lot of points and also helped me decide on a roadmap. It cleared my doubts and misinformation regarding the courses.
Nikita Bandarevich (Barcelona, Spain)
60-Minute Session on Profile Building for MS Computer Science in USA with Non-CS Background
The 1:1 session with Tanmoy was pretty insightful and helped to plan my courses, internships, and extracurricular activities to target the good schools in the USA.
Tanmoy Mukherjee (Kolkata)
60-Minute Session on CV Review, Scholarship & Career Guidance
I found the online counselling session enlightening as well as useful, I would definitely recommend this to the fellow students if they ever want any kind of professional help regarding this field.
Ishaan Sengupta (Hyderabad)
CV Review (Pro-Bono Client)
Tanmoy Ray is someone I came across on LinkedIn through a mutual acquaintance on one of my posts here. I, as a job seeker, finding myself bang in the middle of an extremely competitive space of university placements, asked him if he could go through my CV and review it for the sole reason that, the same CV (which is *me*, on a piece of paper) was being rejected by well-known organizations.

He was kind enough to provide me with in-depth, professional analysis of my CV and he recommended quite a few things for me to overcome. It was like nothing I had ever come across before and I'm sure I can represent myself better on a piece of paper from now on.
I would love to see you featured here as well (for 2019 – 2020). So, feel free to Book a 1:1 Online Session with Me.