A Masters degree is always helpful in career progression, skill development, and fetching higher salaries. But, sometimes, going for a full-time regular Masters program, especially from abroad, might not be feasible due to various reasons. One good alternative is an online degree program (and I am not talking about MOOCs and online courses; we will discuss that later in this post). But, how good are the online degrees in terms of the course curriculum, teaching delivery, and employer recognition? In this post, we will look at the pros and cons of both worlds – online masters vs regular masters (on-campus).
Online Masters vs Regular Masters : Pros and Cons
Co-authored by Parinita Gupta
Today's professionals and graduates have more options than before when pursuing a masters degree. In addition to on-campus programs, there are various online programs in diverse fields that are growing rapidly. The increase is because of the response to the working student's needs who desire to pursue masters while employed full time with other responsibilities.
Getting your masters degree after graduation is the best idea for improving your personal knowledge, career prospects, learning, self-satisfaction and more. But how to earn that masters degree? You can either earn it online or in a campus program. Before you decide on anything, go through the pros and cons of both the platforms to make sure you are choosing the one that best fits your learning style and lifestyle.
The primary difference between the campus-based and online programs is the type of communication. The classroom offers personal interaction with the professor whereas online students communicate via the web, relying on the written chat. So let's go through each degree, understand their pros, cons and you decide, which one is the best fit for you.
Before going deeper, I would like to stress on that this article will focus on the comparison between full-time degrees and online degrees. The online degrees will not include MOOCs. Those who are not sure between the differences between onlne degrees and MOOCs, here is a brief explanation.
Online Degrees vs MOOCs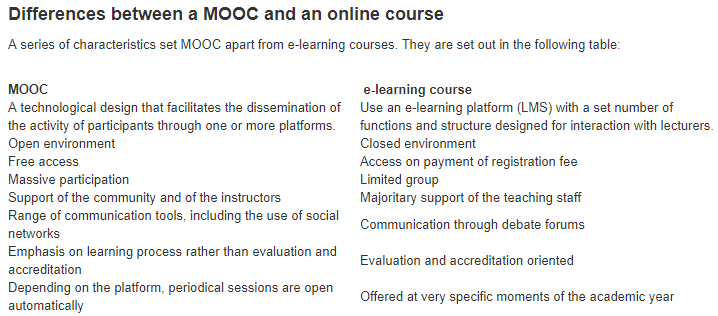 The primary differences are in educational delivery, instructor contact, and formalized systems of education. MOOC's inform students in specific fields of study, typically through video lectures and follow-up tests that determine whether or not students have understood the concepts that are covered.
Online degrees are generally offered at the same price as on-campus degrees. Most (though not all) MOOC-based degrees, on the other hand, are cheaper than their on-campus equivalents.
Online programs mimic the schedule of on-campus programs, for both course load and payments. MOOC-based degrees don't require enrolled students to take a certain number of courses per semester. Rather, students decide how many courses they can fit into their schedules, and even more importantly, they only pay for the courses they take. This flexible structure alleviates both the financial and the time burden on students and potentially makes these programs more accessible to international students.
Degrees offered online use technology to deliver an organized program of education that is divided into classroom hours and educational segments, such as quarters and semesters. Online degrees are awarded based on an established system of learning and skill development determined by each field of study and accreditation body.
In a structured online degree program, your assignments are usually graded by a professor who has experience and knowledge in the field. You receive tailored feedback and possible ways to improve your work. In most free MOOCs, your grades come from either automatically graded assessments or peer-to-peer reviews from other students.
While online courses bring together diverse students, they may still give you an opportunity to meet others from the same geographical region, at a similar professional level or facing similar challenges at their companies. MOOCs generally attract people from all over the world whom you won't get to know as well.
Recommended Reading: Most Popular and Best-Selling MOOCs in 2018
Now, we will move on to our main agenda – online masters vs regular masters.
Online Masters vs Regular Masters: How would you spend your time?
When you opt for the on-campus program, you'll have to split your time between home and campus. You'll drive a vehicle, walk or ride your bike or scooter to drive to a campus where you'll attend your classes, stop by the office of a professor and work some hours.
You might work on your course in the library, canteen or somewhere else on the campus, and then at the end of the day, you leave for home to continue working from home.
If you are learning online, you won't spend your time on the campus. You'll just have to walk in your room to the desk so that you can start working on the assignments or maybe you work on them during the lunch in your office. You get the flexibility to work and learn on your own in your time.
No doubt, you'll have to submit the assignments on time and occasionally, you'll also have to participate in webinars or online lectures. The flexibility of online studying makes it best for the students who want to work as a full-time employee or have other family issues to uphold while earning their master's degree.
But, you also need to be sure that having that flexibility means you also need to be responsible for how you spend your time. Make sure to take your classes seriously and on priority. It's essential to have strong time management skills in an online degree program because only you can be sure that you are on track.
Online Masters vs Regular Masters: How would you interact with the Professors?
Regardless of whether you are taking classes on campus or online, it is essential to learn what professors teach and also their communication styles. The learning curve for doing this might be a little bit steeper, especially if you haven't taken an online class before.
You'll interact with your professor in a different way online than you may be accustomed. You'll have to contact the advisors and instructors via email or other forms of electronic communication such as an instant message or call and you might not get the chance of face to face meeting unless you request for the video chat to discuss the difficult topic. Figuring on how they like to teach and provide feedback on assignments is an imperative part of being an online masters degree student.
Online Masters vs Regular Masters: How would you work in groups?
When you work with the group on campus, you all will be present physically together for the part of your project, whether that's in the canteen, coffee shop, classroom, apartment or library. You'll get to bond well with your classmates and might become a small family by the end of the semester.
In the online master's program, just because you don't get to see your classmates face to face doesn't mean you don't have to work on group projects and you are free from it. With this program, there's a different sense of community among the classmates. Doesn't matter if it's online, you'll still collaborate with your classmates on assignments and projects.
Keeping communication online becomes essential just like learning how to use collaboration software like Google documents. Your ability to get quality shared work with the team working remotely will improve imperatively, it is one of those 21st-century skills in which you still need to be ahead. However, this method cannot establish deep relationships as we see in the case of full time master's degree course.
If you want to earn online, you'll need to be comfortable with the aspects of virtual teaming, where most of the principals of studying in campus apply.
Online Masters vs Regular Masters: Which tools will be available for you?
For today's students, technical tools, both hardware, and software available for online students are vast and help to expand beyond the classroom learning experience without the need to be at the exact place at an exact time.
It is essential for you to be open to trying different types of new technology as well as learning tools, whether its Hangouts, Google+, online forums, Skype, or Facebook groups. Start looking at your mobile phones, tablets, etc. as classroom assignment with learning and teaching tools. The app store will be your tutor and also the toolkit for delivering the best assignments. All the tools can be used to customize the learning experience of a student, therefore make sure to take the advantage of technology that is available.
Online Masters vs Regular Masters: Does location matter?
Most of the times yes but sometimes no. Most of the states don't offer online programs, so it is imperative to do research before sending the applications. Also, if you are looking for the programs outside the state where you live, make sure to consider in-state vs out-of-state tuition costs. However, in most of the places, the out-of-state student automatically receives the tuition waiver and pays only the costs of in-state.
Online Masters vs Regular Masters: How Employers Look at it?
Nearly a decade ago, getting a degree from an online program would potentially signal to employers that a job candidate didn't take his or her education seriously. But, it's very widely accepted now, even commonplace, with employers.
Recruiters say the number of young students preferring to do their degrees online has increased, and hence, the number of job applicants with such degrees. Recruiters have found more and more such candidates suitable for job positions. Not considering these candidates would mean keeping out a large pool of talented people who might be ideal fits for their companies.
But, you need to consider few critical factors.
Degree Accreditation is Extremely Critical
Accreditation is usually a prime determinant.
But, there are also other indicators of just how serious your degree should be taken. Factors that prospective employers will likely consider are the length of your degree program (if it's too short, it will arouse suspicion), the availability of actual academic support (no guidance counselors is usually a red flag for a for-profit racket), fee structure (legitimate schools usually charge per credit hour as opposed to per program), and of course, whether or not you actually did coursework (getting a master's in exchange for a credit card number is usually a dead give away that you're attending a degree mill.
An associate's degree from a regionally-accredited online school is worth more than the Master's Degree that you earned from the Online University of Learning Stuff.
What kind of job are you looking for?
An online masters degree in business or computer science will be perceived very differently from a masters in biotechnology or renewable energy.
You can get a perfectly valid online degree in healthcare administration, but we probably wouldn't recommend becoming a doctor strictly through web tutorials.
Again, you might learn everything there is to know about the economics of international petroleum through an online course. But, a recruiter wouldn't necessarily make you the captain of an offshore oil rig on the basis of your online credentials.
More-focussed online degrees may be a good choice for those who know they want to work in a particular discipline – say online masters in data science.
In the end, the name of your college and the type of degree you have earned is going to be much more important to your employer than the method by which you earned your degree — online or on campus. So, there is no strict employer discrimination when it comes online masters vs regular masters.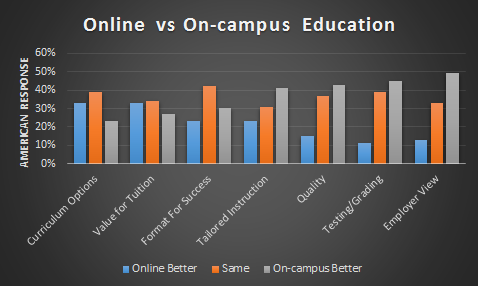 Recommended Reading:
Online Degrees and Courses – Advantages and Disadvantages
Are online courses and MOOCs from top universities worth it?
How do employers look at online degrees?
Online Masters vs Regular Masters: Bottom line
When deciding whether to study online or on campus, students should consider their personal needs as well as learning style with each format and learning objectives (and even long-term career goals). As both the options have their pros and cons, today's education market is truly the choice of students.
Featured Image Source: EarnMyDegree